It is the best and easiest way to transfer files wirelessly from your mobile or tablet (or any Wi-Fi enabled device) to your kiosk. It works on any type of Wi-Fi enabled device with a web browser: iPhone, iPad, Android OS device, Windows PC, Mac PC, Linux PC, etc.
Free upgrade
Available to ALL dakis kiosk licenses
Files stay in your store so very fast! (Wi-Fi)
No APP to download. From your device (phone, tablet, computer or other), simply open a browser and follow the instructions provided on the kiosk screen
Works with all Wi-Fi enabled devices: phones, tablets, computers and all Wi-Fi enabled devices
Uses the device's native file chooser, letting customers find their photos in the manner they are accustomed to on their device
HEIF ready! This is a new file format used by Apple's newest devices with iOS11. HEIF files automatically transferred as JPEG.
Even access images from iCloud!!!!!!!!!!!!!!!!!!!
Want a kiosk? Contact sales@iphoto.net.au today!
AS A RETAILER, WHAT DO I NEED TO ENABLE UB2K
First, you'll need to have the updated version of the dakis kiosk that supports UB2K. (Close and restart your kiosk to get the latest version)
Second, you'll need to ensure that your in-store network, the one that your dakis kiosks are connected to, has a Wi-Fi access point; consumers will need to connect to your Wi-Fi network as the first step to getting their files across to the kiosk. We recommend you make the network SSID something obvious and either keep it open or with a simple enough password for your customers.
Lastly, in the dakis kiosk control centre, there's a toggle to turn the UB2K feature on or off, you'll have to activate this on each dakis kiosk license once you are ready to allow your customers to transfer their photos from their devices directly to your dakis kiosks over Wi-Fi.
Q. DO MY KIOSK COMPUTERS NEED TO SUPPORT WI-FI?
No, your kiosks themselves don't need to have Wi-Fi capabilities, the network to which the kiosks are connected needs to have a Wi-Fi access point.
Q. HOW WILL MY CUSTOMERS ORDER USING UB2K
Once you have everything setup, it is simple for your customers to send their files to the kiosk for printing.
When they step up to the kiosk and start ordering, they'll notice a new icon on the file selection screen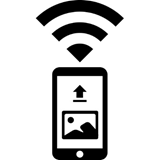 Upon selecting the Wi-Fi transfer icon, an instruction page will be displayed that walks your customer through:
Connecting to your network
Accessing the Wi-Fi transfer page from the device's browser
Instructions on uploading files will then be available directly on the device